Start a blog in 2020, so you are looking for a free, easy, and step-by-step guide on how to start a blog with WordPress in 2020?
This step by step guide for beginners will help you start a blog today with 6 easy steps that will take you a few minutes (less than 15 probably). Start posting your first blog post today. You are going to learn everything you need to know when it comes to learning how to start a blog and making money from it.
Do you need technical coding skills?
I'm assuming you have absolutely no coding skills whatsoever. The good news is blogging is now way easier than ever before. With the help of platforms like WordPress the last thing that should stop you from staring your blog today is technical knowledge. I have also broken down the process into only 6 simple steps that you can follow.
How to Start a Blog in 5 Easy Steps:
These are the 6 main steps that you need to follow to start a blog.
Here is short video on how to start a blog on WordPress in 15 minutes for beginners:
What is a blog?
A blog is like an online journal or an informational website that focuses mainly on written content that is regularly published and updated. The goal of a blog is generally to attract like-minded readers who are interested in certain subjects and generating online passive income. So if you can manage to create quality content on your blog and build some sort of trust with your readers you can leverage this to start making money. This is literally passive income because you write your content once. If you can get ranked from certain keywords you will be flooded by visitors and sales.
Should you start a blog and join the bloggers family
If you have knowledge and passion about any topic or product you can start sharing it with like-minded people. You don't have to be an export in that, you just need to have some real experience, and this is what most readers want to know about. The good news is you don't even have to be a great writer since most people just read blog posts to get a personal perspective on things. And most successful bloggers write in conversational and informal language.
Imaging you have read a book or used a certain beauty product you can literally use your blog to share your genuine personal experience with other people and potentially start making money with your knowledge by recommending them or other options to your readers(simple as that).
The key element of a successful blog is a passion, regardless of your age, location and experience level. When you are passionate about a topic or a product you keep updating your knowledge and posting and posting and sharing it with the world, therefore you attract more consistent readers.
Here are some of the reasons you should start your blog:
Making money online(mostly passive). Blogging can be really profitable at very low cost if done correctly. If you can write a nice and informative blog post about any niche that you are interested in. Once your post is ranked on google and other search engines for certain keywords that you talk about in your article you start to attract free targeted readers. The best part is you just spend a few hours and write it once, but once it is ranked, it can sit there for months if not years and bring you, free readers and make you passive money. I'm going to talk about how to make money from your blog later in this guide.
Growing your personal brand or business. If you already have a business or would like to gain a lot of recognition in your field blogging can be one of the greatest methods to introduce yourself or business and attract more potential customers. Writing the right content can attract hundreds if not thousands of new readers on a daily basis to your website. This method can save you a lot, on advertisements and provide a ton of recognition in your respective niche.
Share your experience and story. A blog is a great tool to share your experience and what you have learned with the world. If you have traveled to a certain place, mastered a particular craft, used a certain product or accumulated experience then you can share it with people who are just starting out and teach these people based on your experience. Blogs can also be used as a diary where bloggers write about their daily experiences and the readers can be part of their lives.
Disclosure: This guide to starting your own blog contains some affiliate links. If you purchase any service through one of these links I may earn a small commission, this is at no extra cost to you.
So if you are ready to learn how to start a blog without further ado, let's jump into step 1.
Step1: Choose your blog domain name
Click here to start!
The first step to start a blog is to pick a great domain name, the domain name is basically the name of your website on the internet. If you still have not chosen your name or not sure what do blog about here are some useful tips to consider.
Try to choose a short domain name(maximum 3 words).
It's better to have a .com domain extension although .net and .org are fine as well.
Make the name easy to remember to avoid any frustration.
It should also be descriptive so that the reader can quickly guess what your blog is about.
You cannot put any space between the words(except dashes – ) so start a blog easy become startablogeasy.com.
If your favorite domain name is not available you can add small words like "the", "a" or "my". For example, call your site TheFitnessSecrets.com instead of FitnessSecrests.com.
See if your domain name is available through the textbox below:
Step 2: Get a web hosting
This step may seem to be a bit technical but the good news is, with the help of platforms like WordPress it is just a piece of cake. If you wanted to have a website a couple of years ago you needed to know HTML and CSS and other coding languages but today you just need to follow these steps and you have your website up and running in no time.
What is WordPress: WordPress is the most popular and simplest way to create your own blog or website. Over 34% of the websites that you see on the internet are powered by WordPress. Yes, that is 1 in every four websites that you visit.
It is an open-source content management system that enables everyone to build a website even does know little of no developing skills.
In order to host a WordPress, the best web hosting that the official page of WordPress recommends is Bluehost and this the web hosting that we are going to use.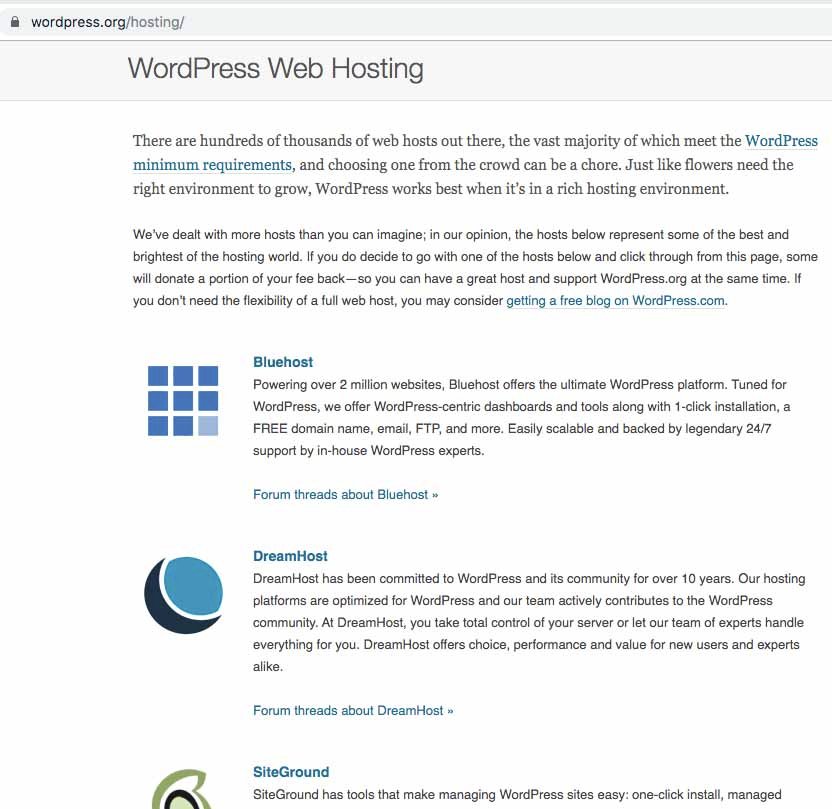 Now that you have picked your blog domain name it is time to get your blog online using Bluehost.
What you get with Bluehost:
30-day money-back guarantee if you were not satisfied.
A free domain name as part of your package for the first year.
24/7 customer support through chat and phone.
Simple one-click installation of WordPress.
As we already mentioned it is the nest hosting prover recommended by WordPress official website since 2005.
Free SSL which is mandatory for Google to rank a website higher in the search result.
Let's get your website online!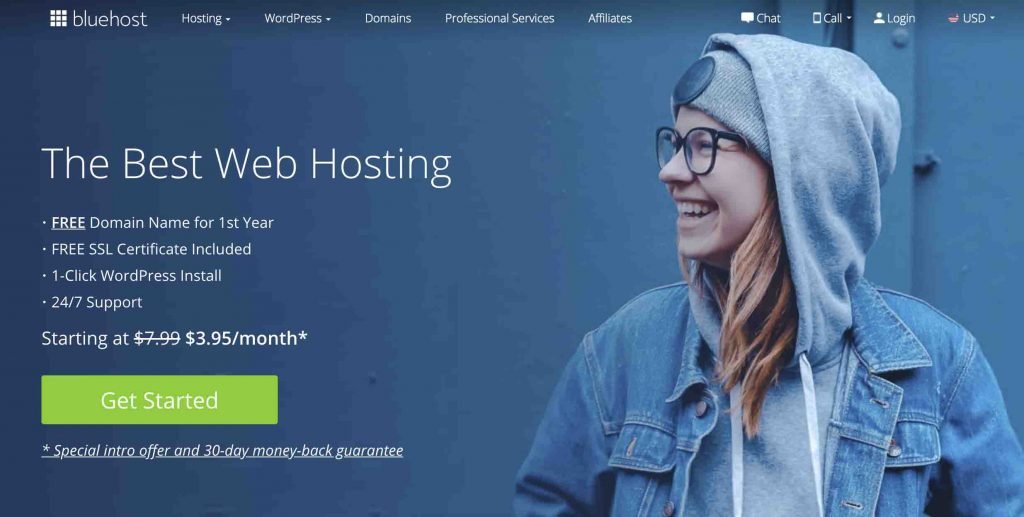 2. Select your plan, click select to choose your plan (if you just starting out go with the basic plan).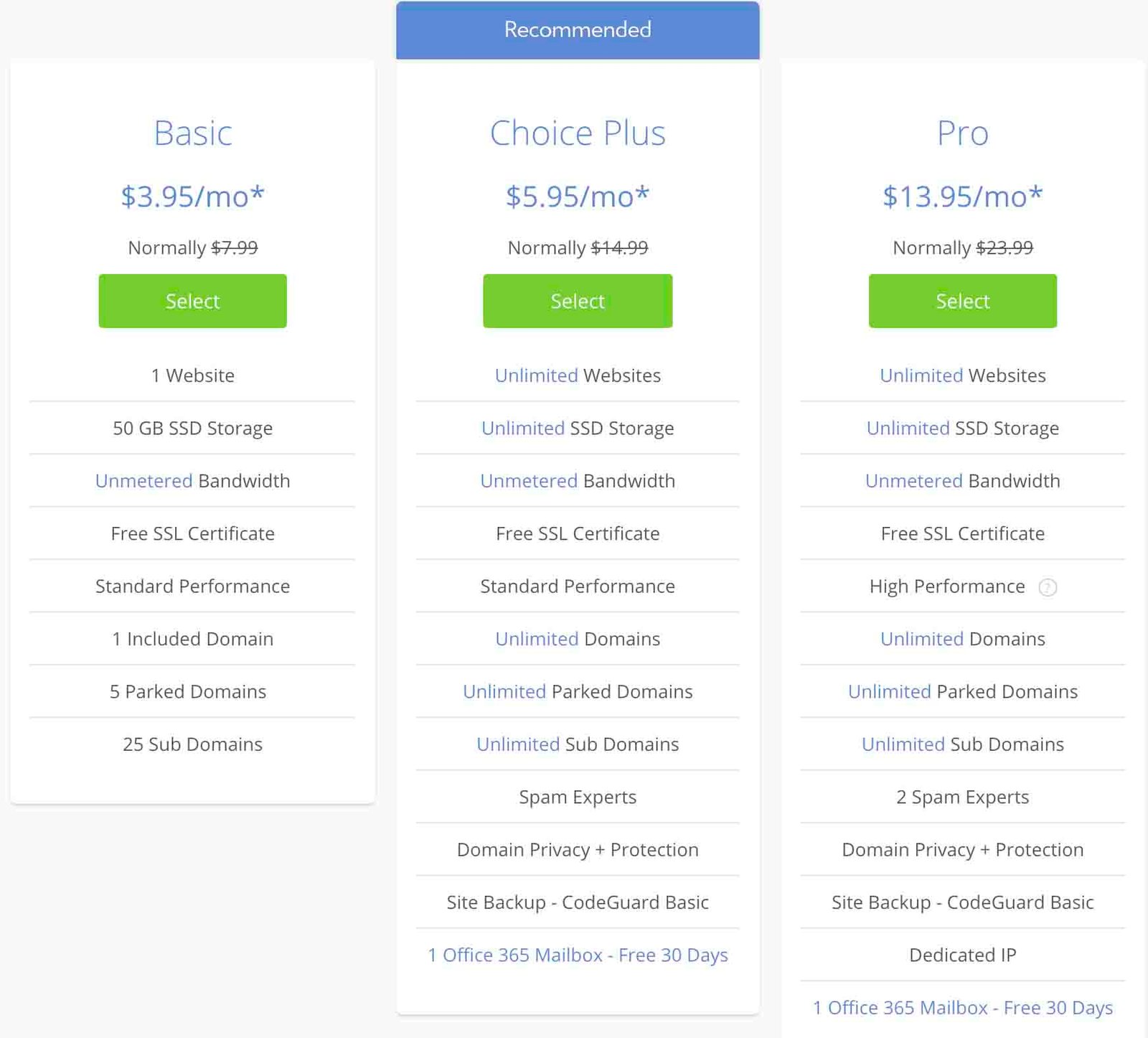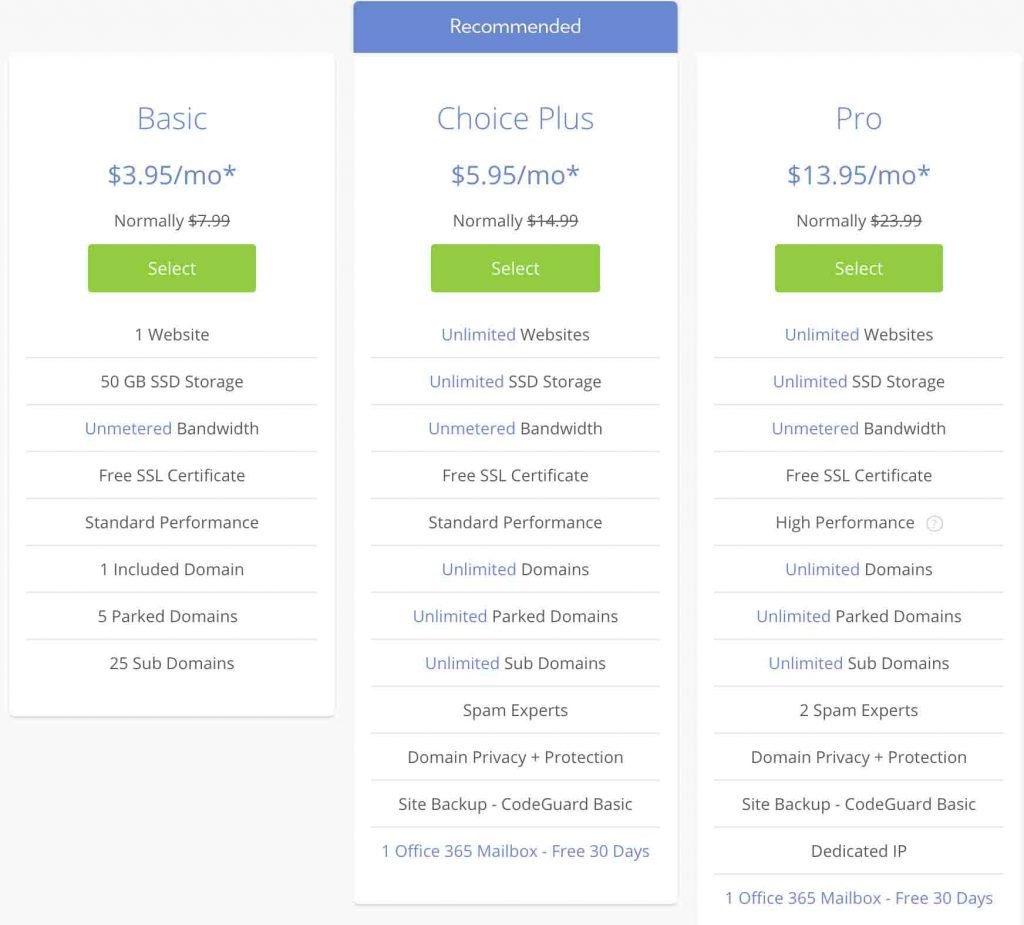 3. Enter your domain name and click next
On the next page there 2 textboxes, if you already have a domain and type it in the right textbox. If you are new and don't have a domain name check the availability of it in the left textbox and then click next.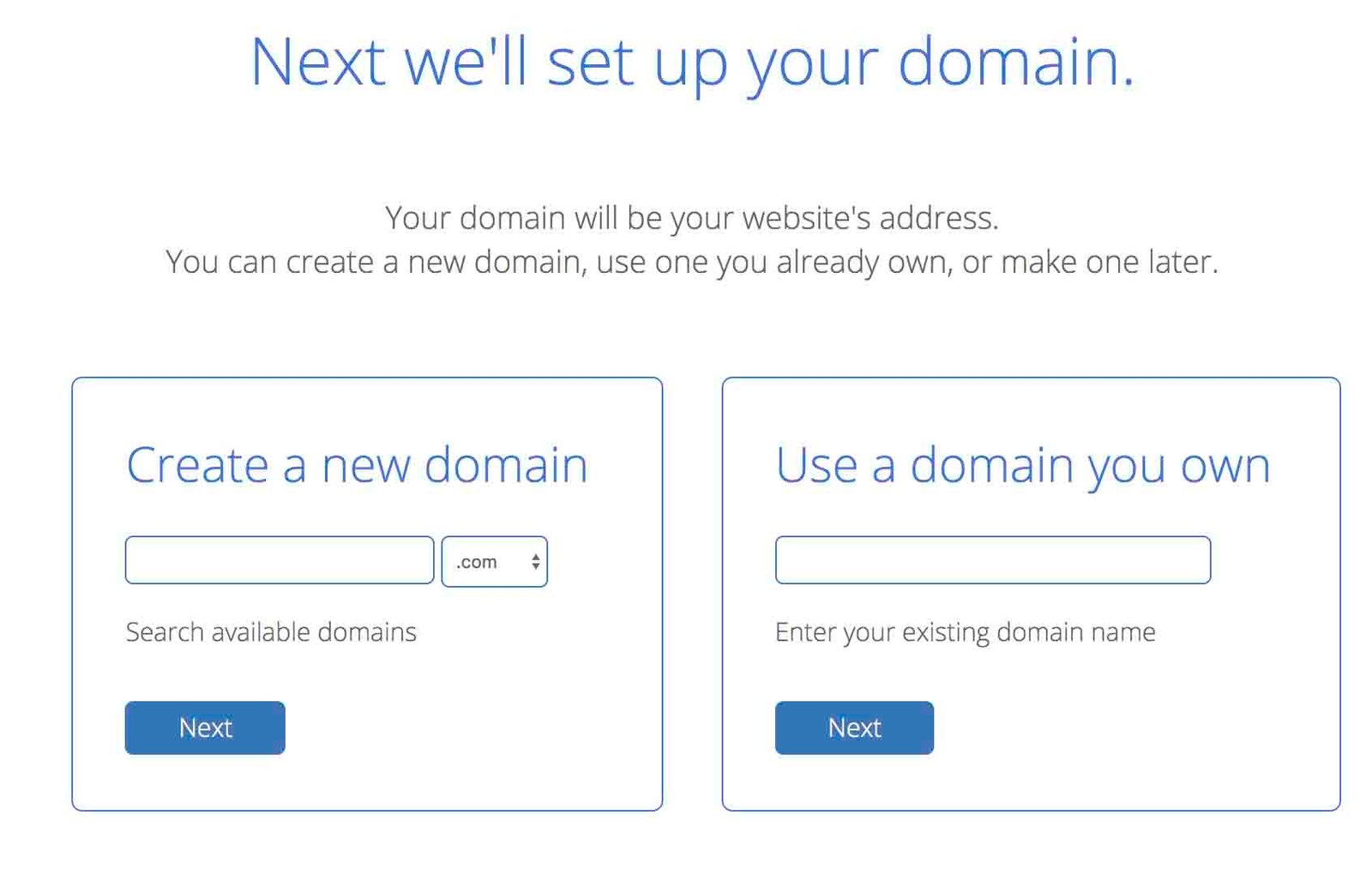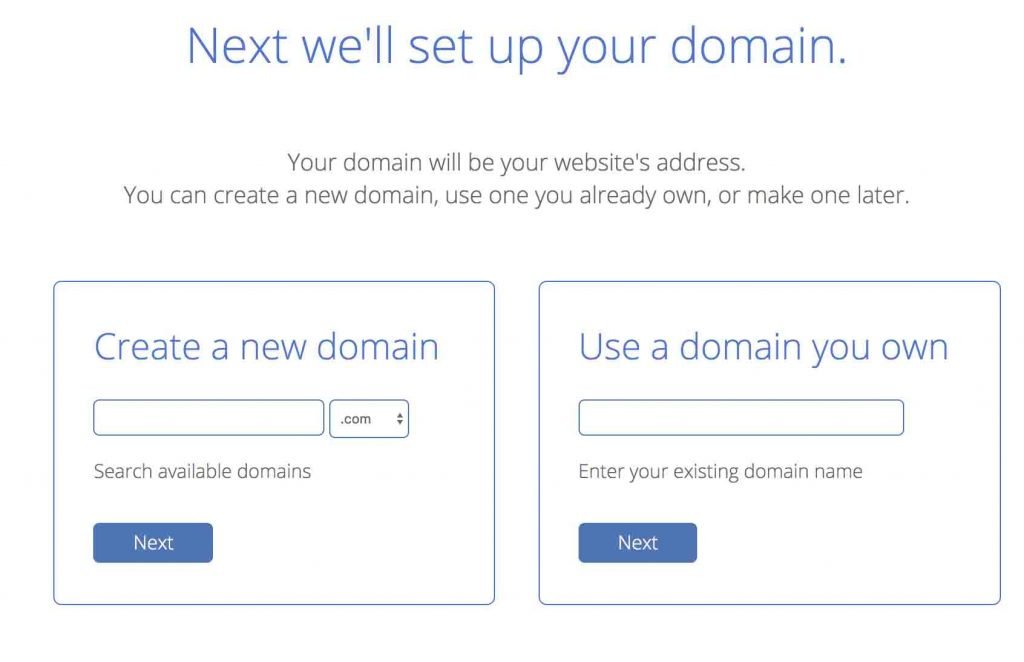 4. Complete the billing information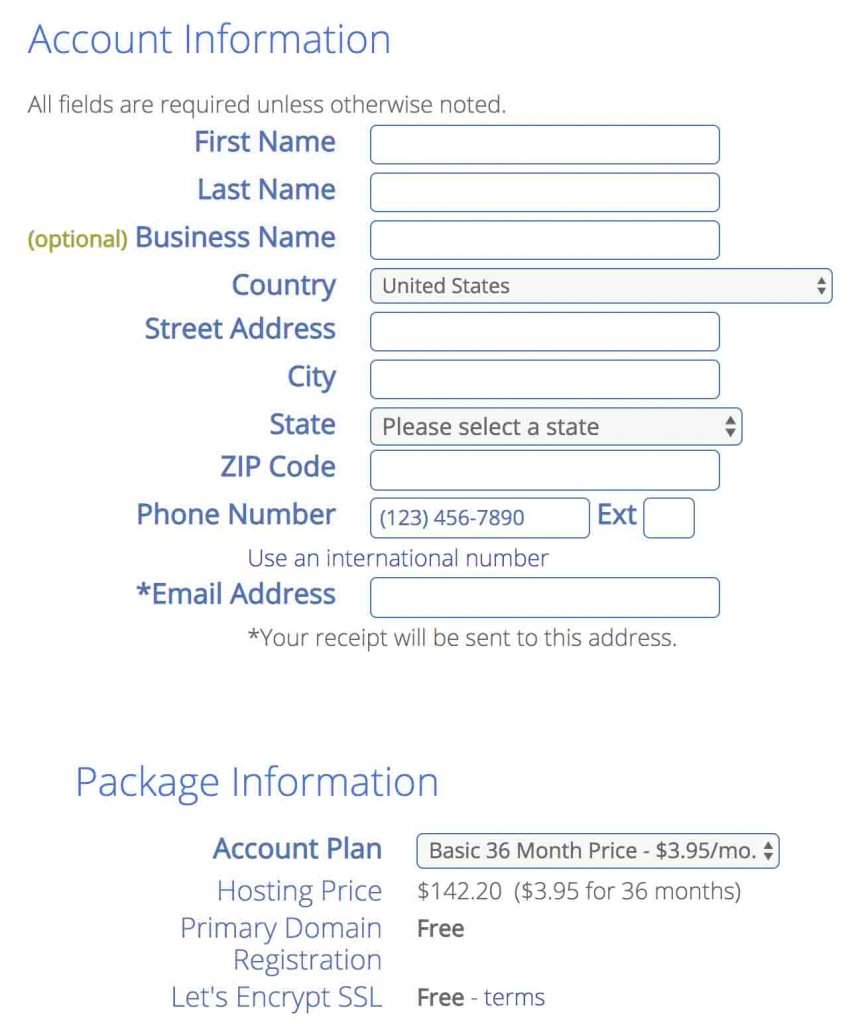 5. Select the right package and uncheck unnecessary options
Untick SiteLock Security and Codeguard which probably you don't need it, you can also get rid of domain privacy if you want it's only $0.99/ month though.
With all of these packages, you'll get a free domain name for the first year, the email account for your website (youname@yourdomainname.com), WordPress installation and Webhosting.
If you think you'll be creating more than one blog for the next 12 months it's better to choose the recommended plan "Prime 36 Month Price" with unlimited websites. With this plan, you will get the lowest price for your hosting and that will be locked for three years.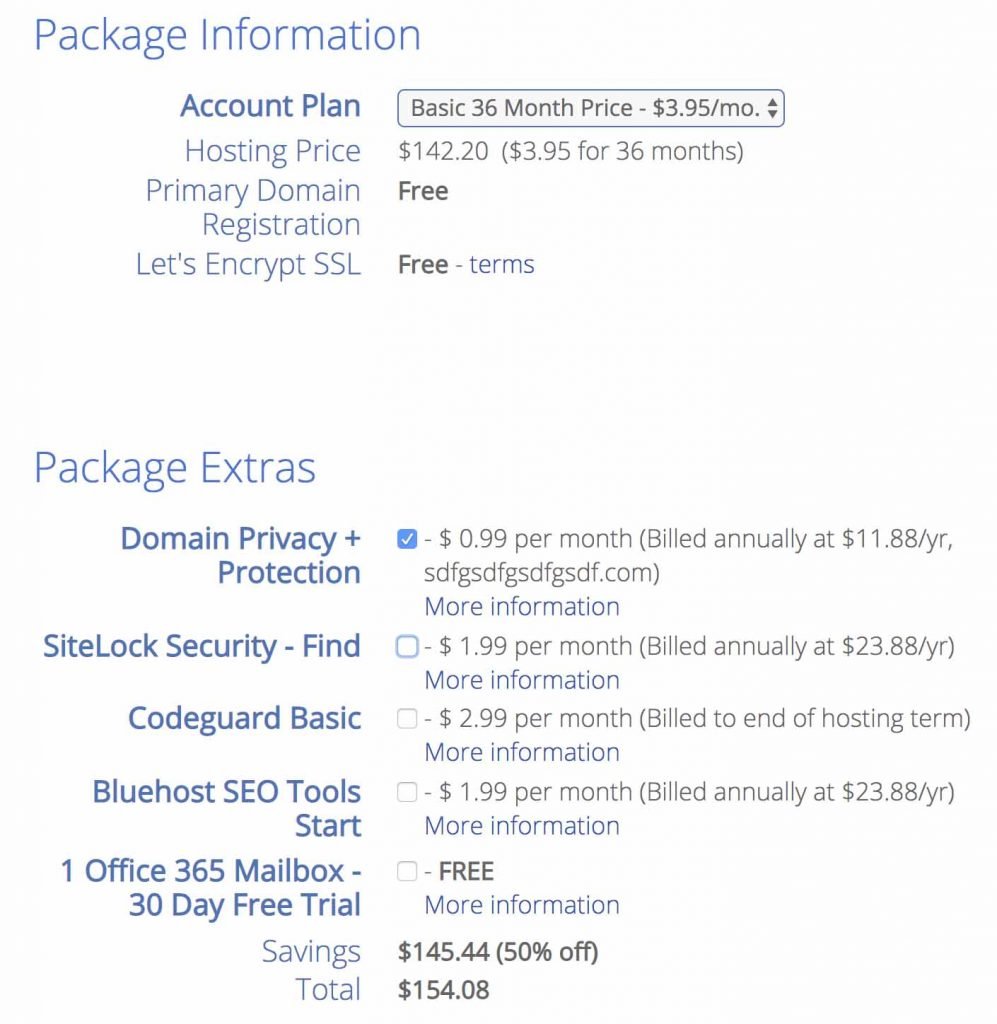 6. Enter your payments details, check the box for terms and conditions and submit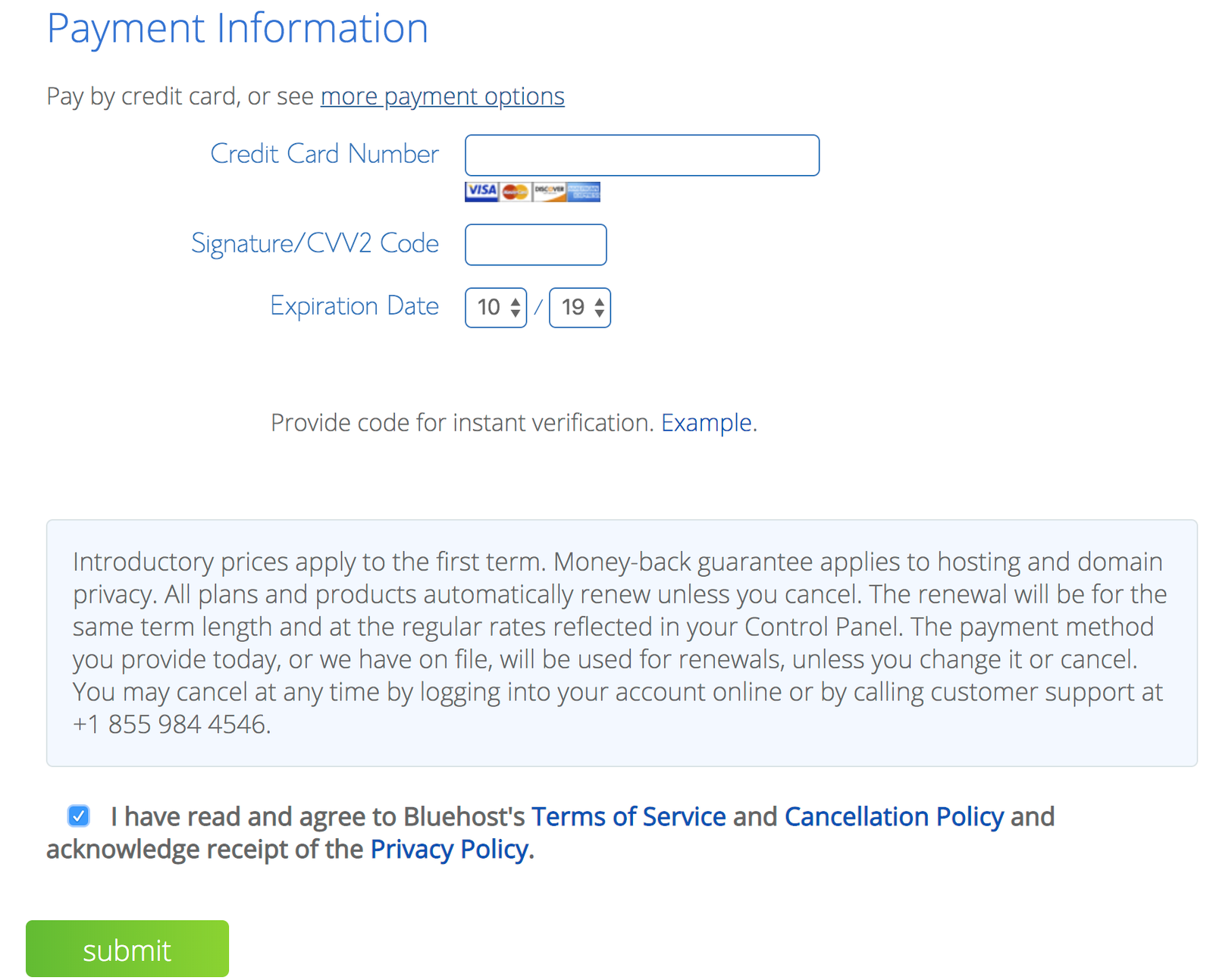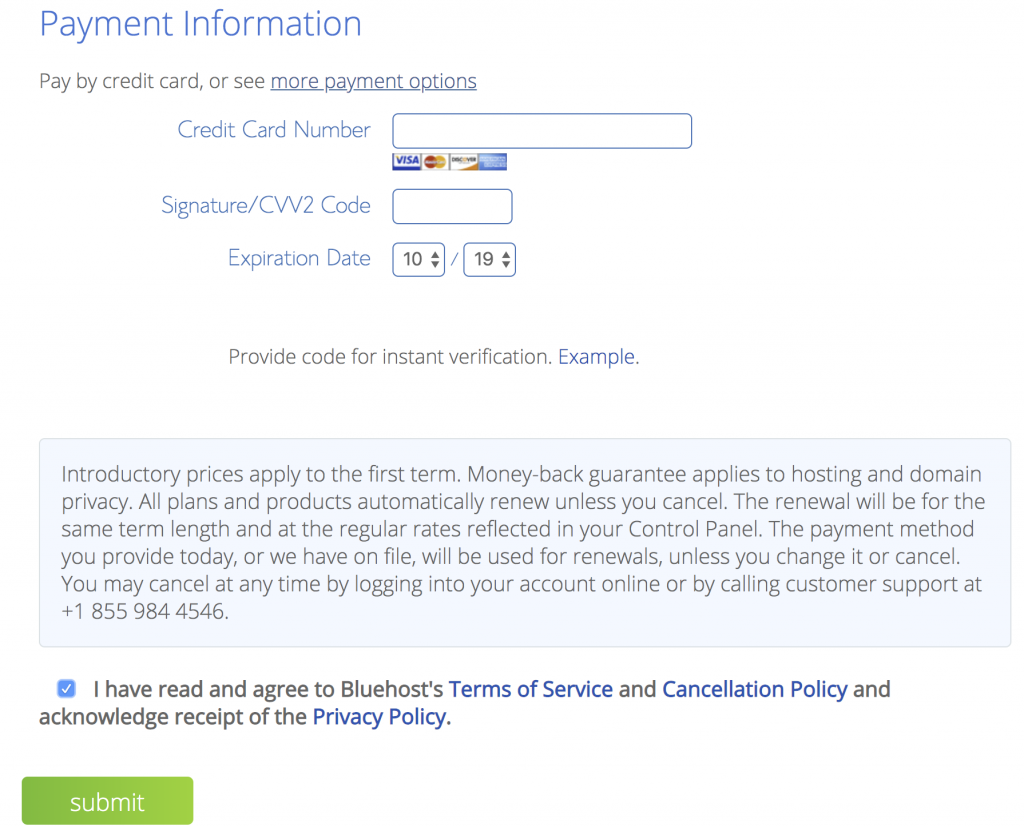 7.Create a secure password for your account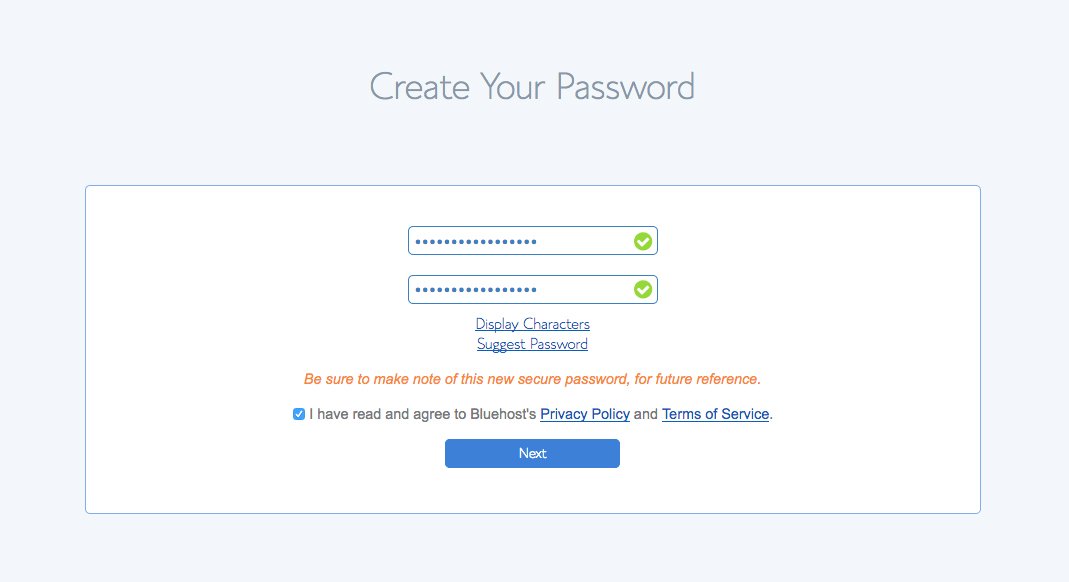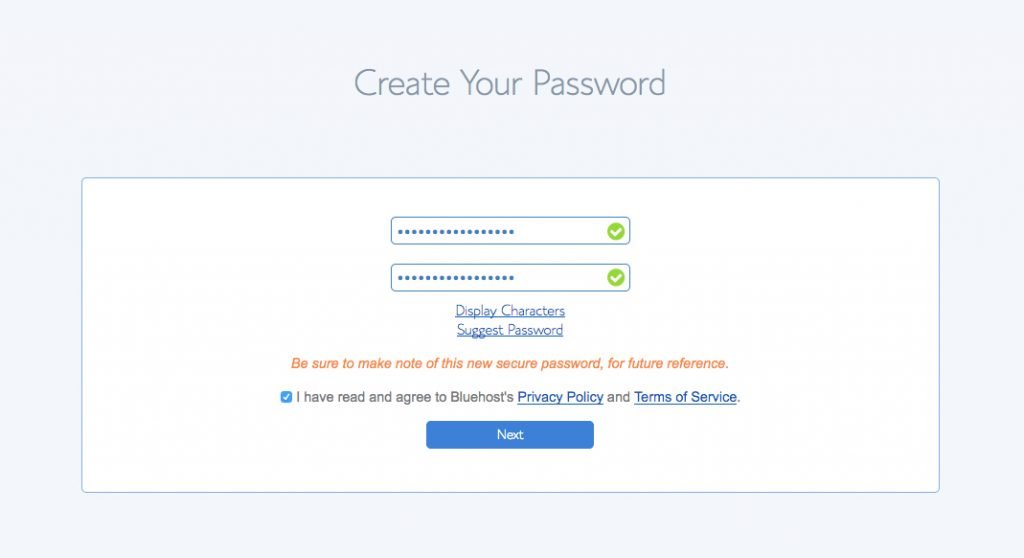 8. Choose a theme for your blog for now(you can change it later)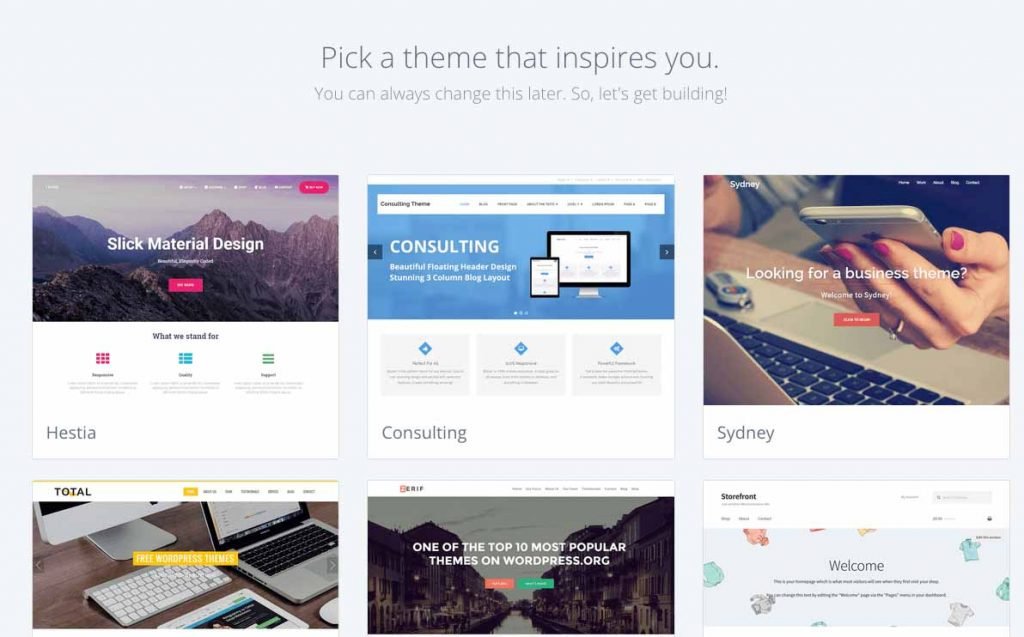 At this stage, your WordPress will be installed, once it is installed click on "Start Building" to log in to your account.
At this point, you will receive an email that contains your blog login details and these login details are different from the Bluehost account.
To log in, you need to go to https://yourdomainname.com/wp-admin/
Step 3. Design your blog
Now the fun part begins, after installing the WordPress and creating the password if you are not logged in already go back to bluehost.com and click the "Login" button at the top right corner of the screen. Put in the domain name and password information you should go to your WordPress dashboard.
A theme is basically the "skin" of your blog, here is a list of the best themes you can use for your website. To change the theme, head over to "Appearance" > Themes which will take you to a page that looks like this:

Click on "Add New Theme" which you can see with a "+" button on the page above and this will take you to a new page where you can select from thousands of free themes. Hover over to the one you like, the "Install" button becomes visible on that click install and activate the theme.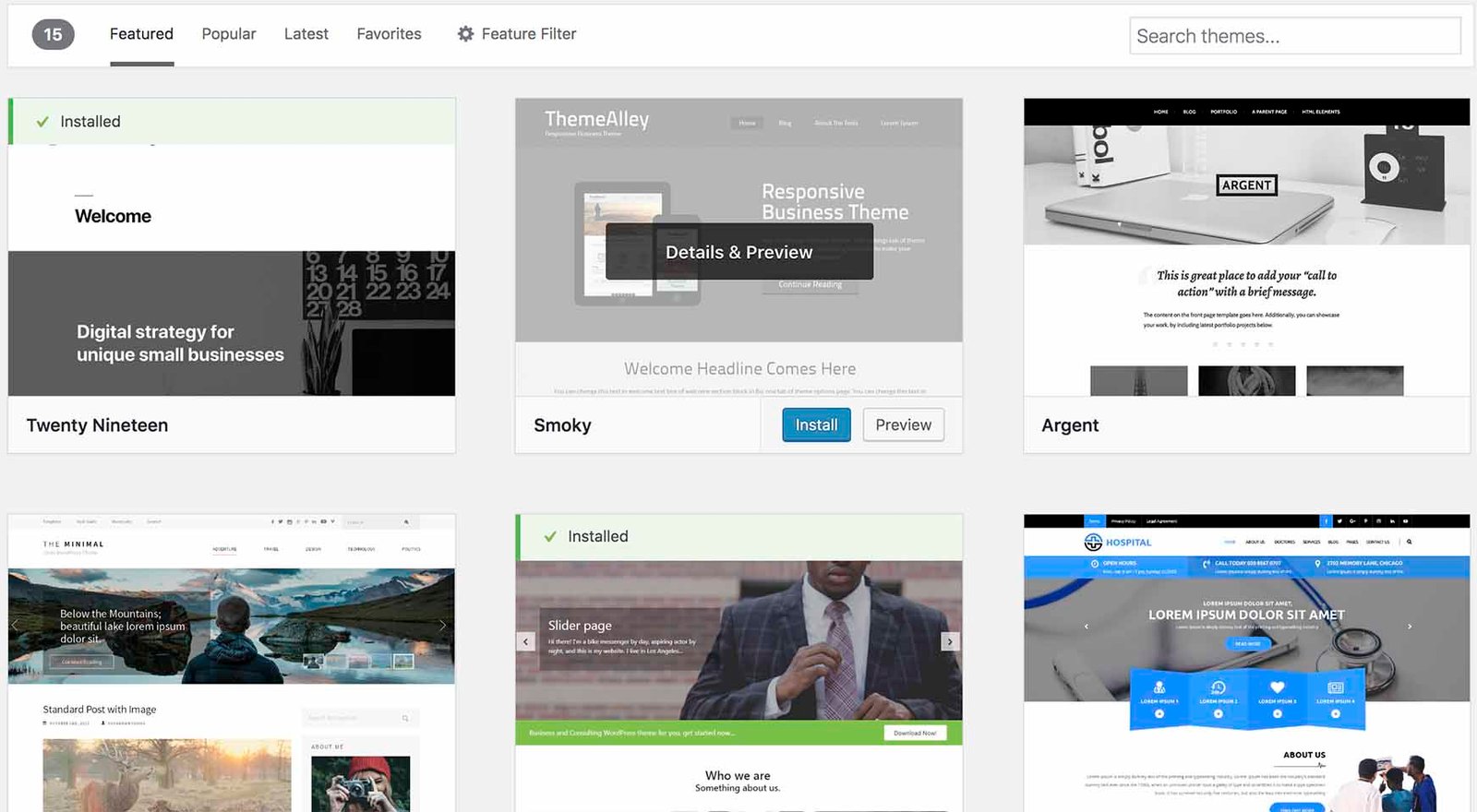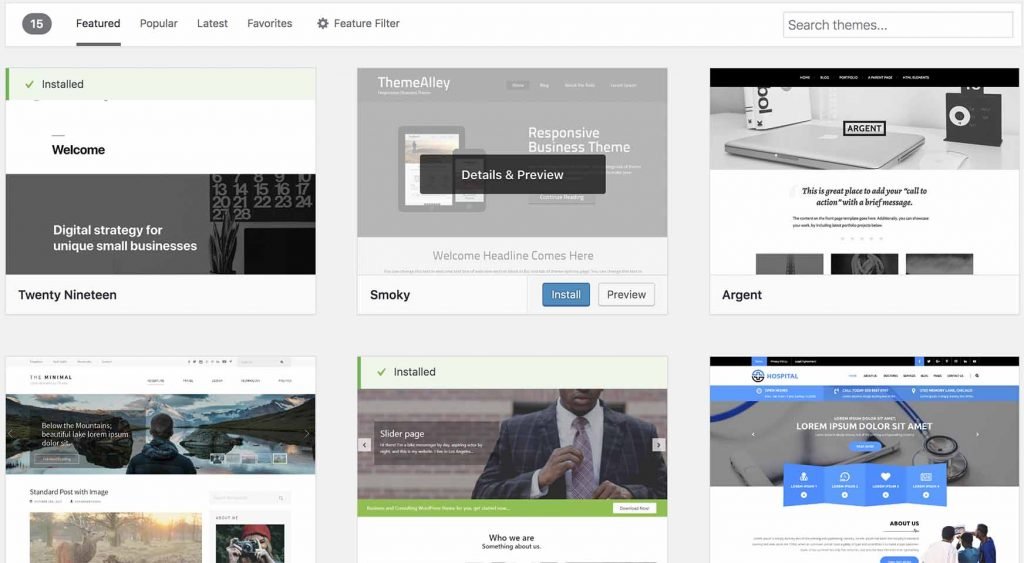 If you would like to see how the theme looks without installing it, just click "Preview" and you can see how a theme looks before installing it, like the picture below: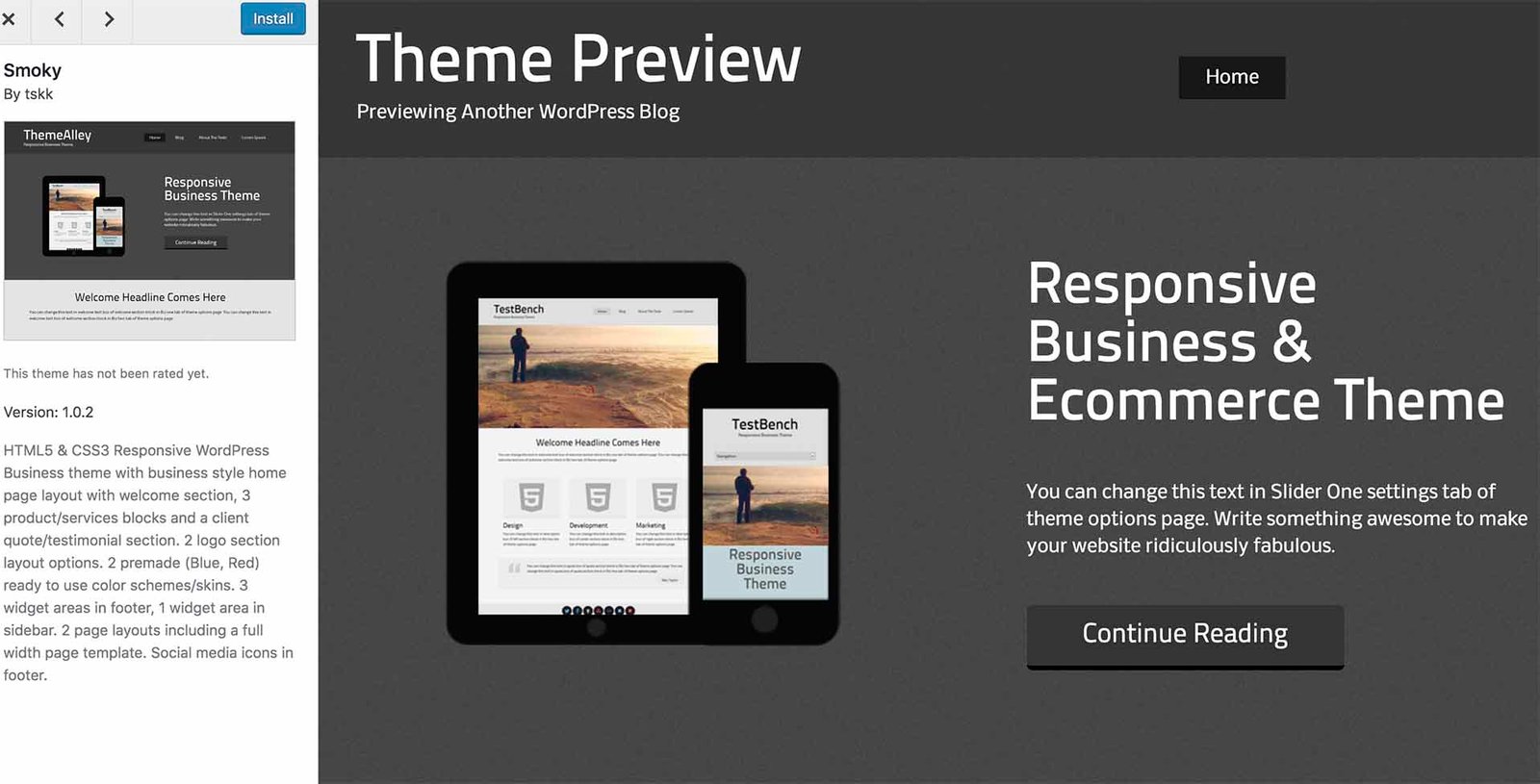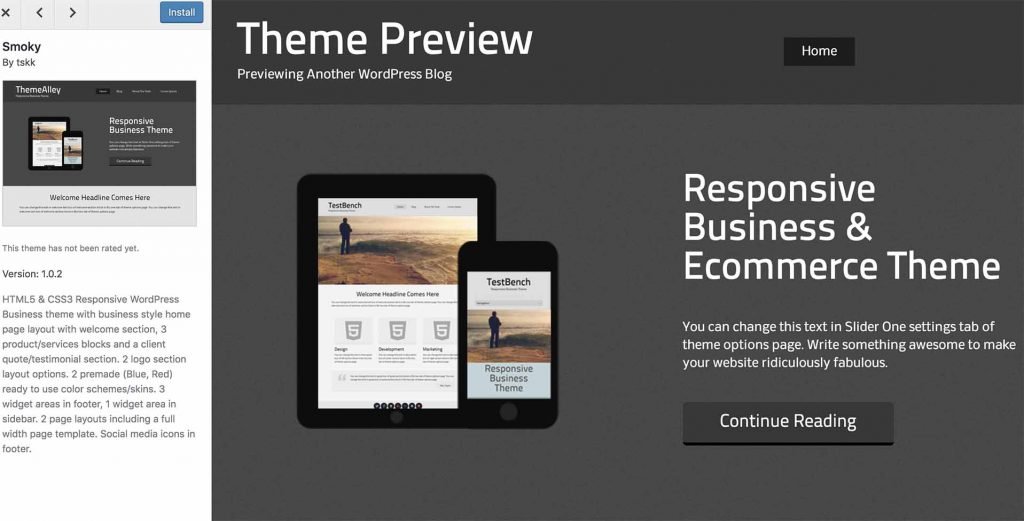 What Makes A Good Theme?
It's better to have a simple and plain theme.
Make sure it is responsive(works smoothly on mobile).
Choose a theme with a nice visual appearance not too busy though.
Make sure it is a fast theme, test it on desktop and mobile to ensure it runs smoothly on both platforms.
Step 4. Write your first blog post and publish it
When you made it this far it means your website is up and running with your desired theme. Congratulations!
Now it is time to send some content to the world, to do that hover over "Posts" on your left menu and click on "All Posts"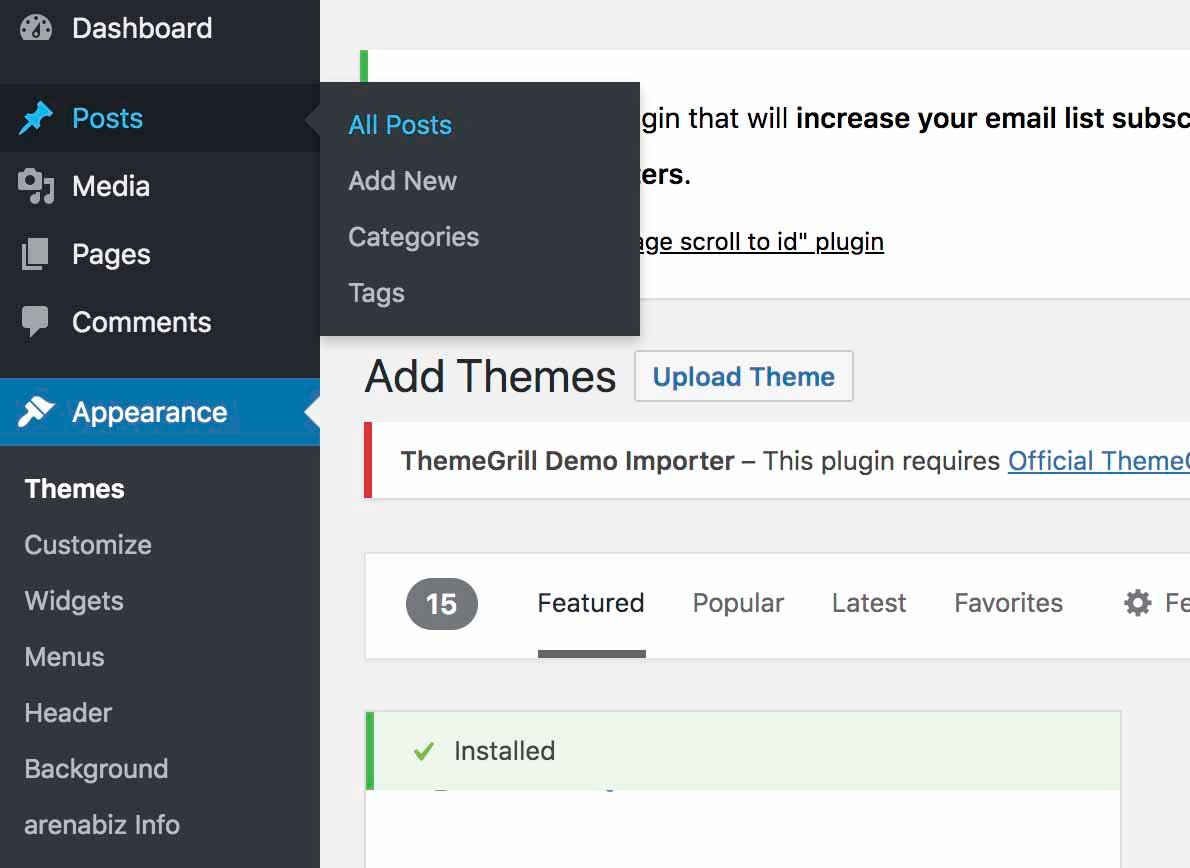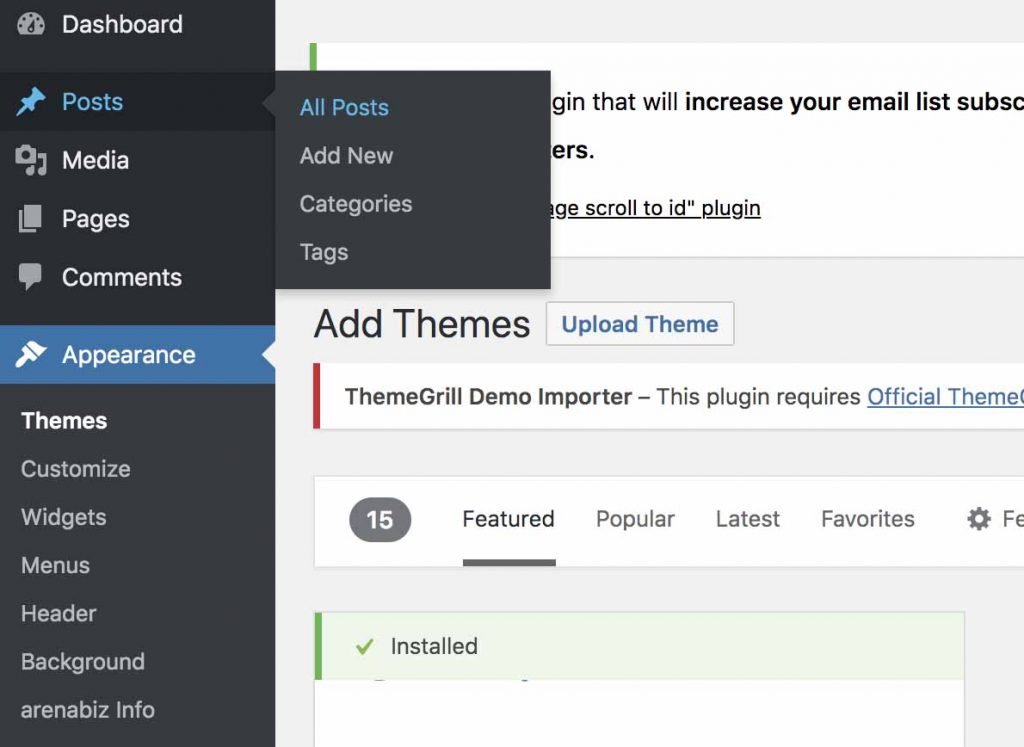 In the new page, you can see there is a default post called "Hello World", the is the default post that comes with every new WordPress blog., you can just select and delete it. To start writing your first blog post click on "Add New" which will take you to the new post editor page.


In the post editor page, you can type the title of your post and in the section below that, you can start writing your post. Each section is separated with a block so if you would like to add a new block(paragraph, Header, Image and etc) click to the "+" button and select the block you would like to add.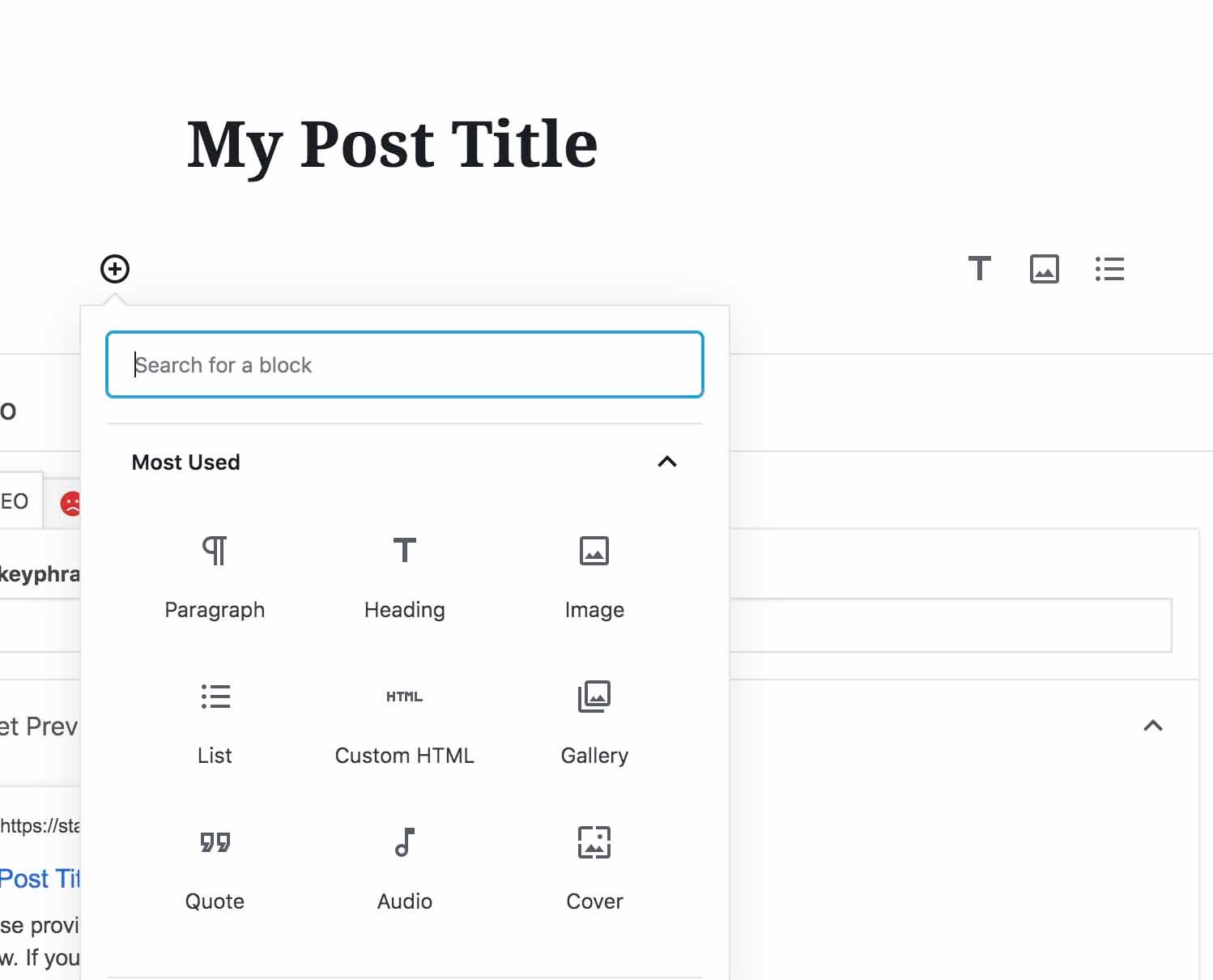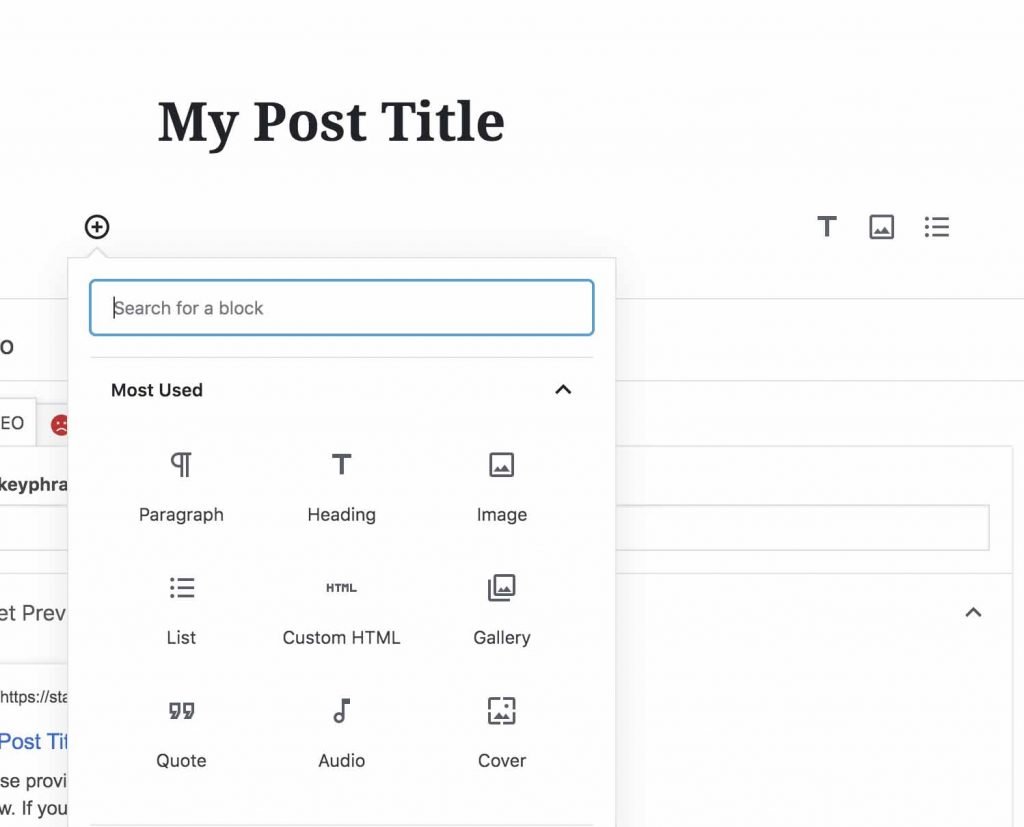 Change this before you publish
Before you publish your content it is better to make this minor change so that your published URL looks cleaner and more search engine friendly.
Head over to "Settings" and then click "Permalinks" in the new page you can see that the default URL is the day and name which looks pretty ugly, change that to post name. This will make your published URL way more readable and SEO friendly.


Publishing your first post
After you have finished writing your post all you need is to hit the blue"Publish…" button on the right side of the screen.
if you would like to save your work without publishing, for now, you can just hit "Save Draft" and then publish your works when it is ready.
Also if you would like to see how your content looks on the browser just hit "Preview" so that you can see how the layout looks in different browsers.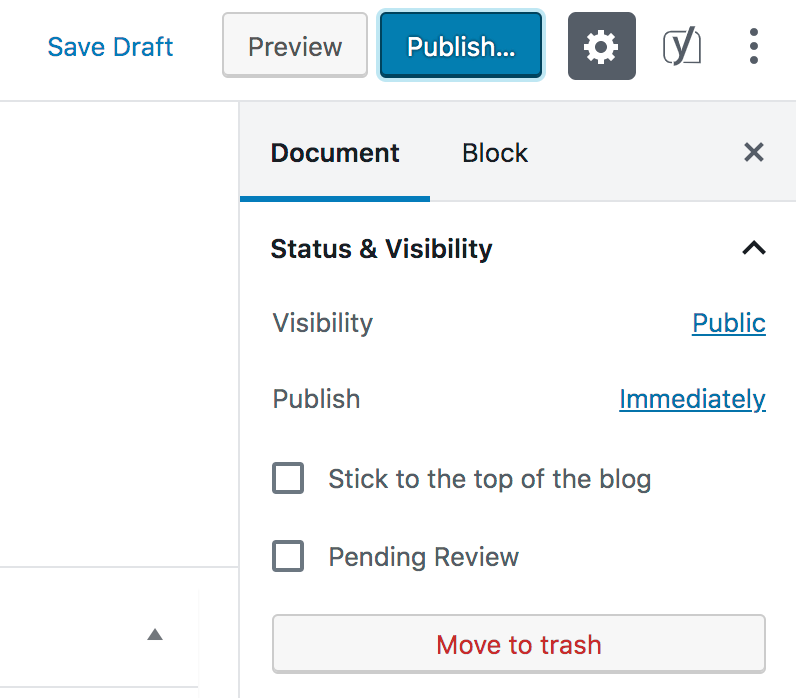 After publishing your first blog post, in order to view the actual content in a browser, you can either use the URL in the page address or hit the view page button.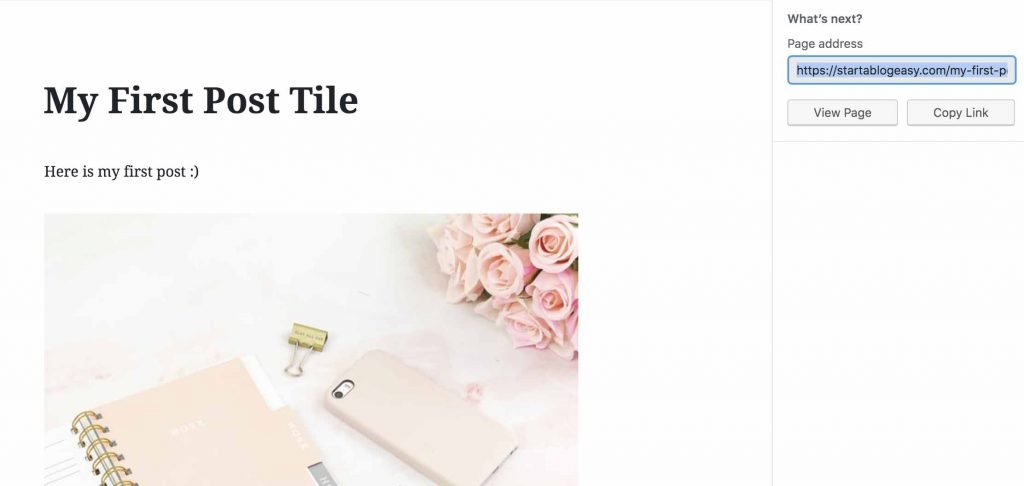 Congratulations you managed to create your first post on the internet.
Step 5. Drive traffic to your blog
Now you got your website up and running it's time to get visitors to your blog. One of the best and fastest methods to get readers is through social media, Facebook, Instagram, Pinterest, Twitter, and etc.
All you have to do is to share the URL of your website to one of the platforms above, you can find your website URL in the page address as we mentioned in step 4. But to get free targeted warm traffic, one of the best (if not the best) methods is through search engines especially Google. In order to get ranked on Google make sure to write decent unique content that gets enough monthly searches from google. You can check monthly search results for certain keywords through the Google keyword planner which is a free tool to use.
To get free traffic from Google you need to submit your website to Google so that Google can crawl and index your website. If Google finds your content valuable it will show your website in the search results and if you get to the first page you will be flooded by visitors.
Frequently Asked Questions
What is a blog?
Some people are still wondering what is a blog? The concept of a blog started back in 1994 and at the time it was not called a blog, it was just a personal homepage. The term "weblog" was coined in 1997, and it was shortened to "blog" by a programmer in 1999. Original blogs were linked from an archive or home page and were updated manually which was not very efficient.